Providing quality web design services in Narellan for over 10 years.
web design services for all business types
A brief look at some of our web design services in Narellan:
Who is FluidFlow Studios?
FluidFlow Studios is a reputable WordPress and web design expert in Narellan, NSW Australia. With our designers and web developers working together and through our many years of combined experience, we know how best to ensure that your website is creatively designed with maximum responsiveness, efficiency and optimisation.
The value of responsive websites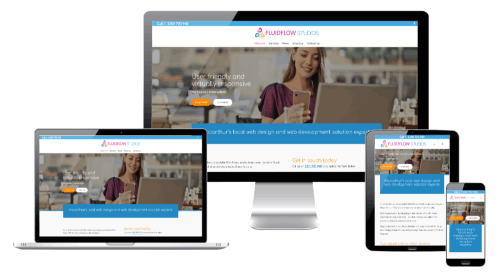 Are you interested in a single or multipage responsive website? We do it all, with your specific needs in mind.
The beautiful thing about responsive websites is that they are easy to read and navigate.
The best thing about responsive websites is it doesn't matter what device your customer is using – it works perfectly across any device such as phones, tablets and desktops.
What makes FluidFlow Studios the best choice?
Your website is one of your greatest investments and it should be treated as such. It's your primary tool to convert website visitors into customers, through effective content marketing.
At FluidFlow Studios, we don't want you to lose such a great treasure to amateurs. We want to help you develop a great website that will attract the right audience, yield better return on investment, as well as optimising your search engine functionality. So more people find you and your business.